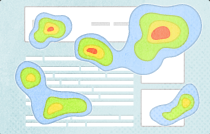 What was once prohibitively complex and expensive can now be done inexpensively with online testing services. Testing will uncover problems that are confusing for your audience. Here's a list of vendors to start your research process, and some suggestions.
Three suggestions
For a real-world example on a recent project, designer Ben Snyder said on his blog, "the purpose of the user test is to get feedback about the new design to understand if there are any parts of the website that are confusing to users, and to test the site for hidden bugs that might prevent a user from getting the information they need" or prevent them from completing actions on the site.
Snyder considered three constraints: (a) Two week time frame; (b) Evaluation limited to Facebook fans and current users; (c) Inexpensive.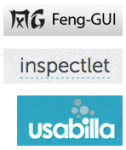 His conclusion was to use: Feng-GUI, Inspectlet, and Usabilla. Snyder says, "With Feng-GUI we will get some great data that approximates an eye-tracking study. With Usabilla we have a tool where we can actually conduct a user test. We can write the instructions for the user and they can take the test without need for us to moderate it. It will provide us with great feedback based on the outcome of the user tests. We will use Inspectlet to record the user studies and will generate additional data and heatmaps that will show us more directly how the users behaved on the website." Their costs came in under $100, with $25 for 10 Feng-GUI tests; $7.99 for Inspectlet (the first week is free); and $49 for 100 tests on Usabilla (or 10 for free).
More options
Here's a broader view of testing options, adapted from a recent list by Cameron Chapman, plus several additional suggested by commentors on her blog:
| | | | |
| --- | --- | --- | --- |
| Service | Cost | Tests existing or new users? | Type of testing |
| 4Q | $0 – $399 per month | Existing | Surveys |
| AddUse | $0 – $99, depending on number of tests | Existing | Surveys and user tests |
| BagelHint | $0-9/month | Existing | Upload screenshot; get feedback |
| Chalkmark | $0 – $109 per month | Existing | First clicks |
| Clickdensity | $0 – $400 per month | Existing | Heat maps |
| ClickTale | $99 – $990 per month | Existing | Heat maps |
| Concept Feedback | Free for community feedback, $99 per expert | New | Expert and community feedback |
| Crazy Egg | $9 – $99 per month | Existing | Heat maps |
| Ethnio | $0 – $299 per month | Existing | Surveys (a hub for other testing services) |
| Feedback Army | $20 per test | New | Surveys |
| FiveSecondTest | $0 – $200 per month | New | Visual questionnaires |
| GazeHawk | $495 – $995+ per test | New | General usability, including heat maps |
| GhostRec | 5 cents per recording | Both | Screen recordings |
| Google Website Optimizer | Free | Existing | A/B and multivariate tests |
| Inspectlet | $8-90/month | Both | User recording app |
| IntuitionHQ | $9 per test | Both | Screenshot surveys, including A/B tests |
| KISSinsights | $0 – $29 per month | Existing | Surveys |
| Loop11 | $350 per project | Both | General usability |
| Mechanical Turk | Varies | New | Surveys |
| Morae | $1.5k+ | Both | General usability |
| Navflow | $0 – $200 per month | New | User paths |
| OpenHallway | $49 – $199 per month | Both | General usability |
| Silverback | $69.95 | Both | General usability |
| Simple Mouse Tracking | Free | Existing | Mouse tracking |
| TryMyUI | $35 per test | New | General usability |
| usabiliTEST | $10-20/month; $180/yr | Both | General usability |
| Usabilla | $0 – $199 per month | Existing | Micro-usability |
| Usaura | Free | Both | Quick tests |
| User Plus | $0 – $35+ per month | Both | User testing and usability scoring |
| User zoom | $9-25k + | Both | General usability |
| UserEcho | $0 – $256 per month | Existing | Surveys |
| userfeedbackhq | 70-2500 EUR | Both | Swiss remote usability-testing provider |
| UserFeel.com | $39 per test | New | General usability |
| Userfly | $0 – $200 per month | Existing | Mouse clicks and movement recording |
| Userlytics | $59 per participant | New | General usability |
| UserTesting.com | $39 per user | New | General usability |
| Verify | $9 – $29 per month | Existing | Nine types of usability tests |
| Webnographer | Unknown | New | General usability |
| WebSort.net | $0 – $2,499 per year | Both | Card-sorting |
| WhatUsersDo | £30 per user | New | General usability |
| xSort | Free | Both | Card-sorting |