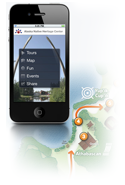 It is getting easier and cheaper for cultural and scientific organizations make mobile, handheld tours. According to Nielsen, 40% of Americans with mobile phones are carrying smartphones; of those 40% run Android, and 28% have an Apple iPhone. This is a huge market, and by 2012, approximately half your audience could use your app from the smartphone in their pocket. Or, you can loan iPod Touches to visitors on site.
Keeping it simple
Apps just need to be good enough. No need to get too fancy or reinvent the wheel. While custom apps run from $25-100k, many vendors will create an app for you for less than $25k, and some for well under $5k.

This is a summary of the vendors offering apps for less than $25k at yesterday's 3rd Museums & Mobile online conference.
The key to a tour app on a budget is creating a 'templated' app. You upload content ("tour stops") to the vendor's online content management system (similar to creating blog posts), and then the vendor packages your content into their pre-existing framework, creating an app that gets submitted to the Apple or Android app stores.
Summary of vendors: 

TourBuddy - $1-2k per app, with reasonably priced updates, and options for additional features. Inspired by the IKEA model of anchoring on a low price, yet delivering good design, Yvonne Jouffrault, says Tour Buddy is creating apps for organizations who want an affordable app, and don't need a lot of customization. Jouffrault says GPS maps are one of their best features. The GPS works well for any large, outdoor location with a clear view of the sky. The map mode allows users to pan over a map to choose a tour spot, or see their location on a Google map. TourBuddy has created approximately a dozen apps so far, and their apps run on both Apple iOS and Android. Coming soon, TourBuddy is adding a web app option, a better organization of tour stops, and more visual styles. Later in 2012, Tour Buddy may add support for tablets and video. They have two apps with many ratings: their "Savannah Walking Tour" has a free and $10 version, and 4/5 stars in the Apple App Store; "Dutch Utopia" is free and has 3.5/5 stars. See pricing.

OnCell – $1.5k for audio tours, $3.8k for multimedia. OnCell built their business creating audio tours run from cell phones, i.e., visitors call a phone number and enter stop numbers into the phone to hear recorded tour messages. Their call-in business has hundreds of clients in the US and Canada, including many major institutions like the Grand Canyon and 80+ other National Parks, the Met, the Smithsonian, etc. The call-in market is being disrupted by the tour apps, which don't require visitors to make a phone call and burn their cell phone minutes. They have two apps so far on the "OnCell App" platform, the "New Orleans Jazz" app was published this summer, but has no reviews yet. See pricing.

TourSphere – $500-900/month for native apps. $400/month for web apps. They have a CMS for uploading content. No upfront fees, no contracts. The price depends on which combination of phone and tablet sized iOS or Android apps you make. Their 'National Underground Railroad Freedom Center' has 3/5 stars. See pricing.

Tristan – $8-15k per app for an exhibition guide and walking tour. Tristan's authoring platform is called Autor. Vanessa Vanzieleghem, Tristan's Global Sales Manager, notes that Autor supports up to 7 major languages, and publishes to iPhone, Android, Blackberry, iPad and creates a web app. Their more expensive, custom apps have ratings in the range from 2.5/5 stars ("Phillips Collection," U.S. app store), to 3.5/5 ("The Art at Cowboys Stadium" and "Smithsonian: Infinity of Nations," U.S. app store), to 4.5/5 (Canadian Museum of Civilization, Canadian app store).

GuideOne - $15k+ per app. Their "plug and play" apps draw on a number of preset modules: audio tours, zoomable floor maps and images, scavenger hunts and quizzes, membership/donation features, and links to social networks. GuideOne has lowered their prices and improved their offerings since the Spring. According to product manager, Juan Sanabria, their Alaska Native Heritage Center app launched in May (4/5 starts), the Inupiat Heritage Center app launching soon for iOS and Android. Their app for the Chrysler Museum of Art (Norfolk, VA) was released in February, but has only garnered one review. Coming soon is a Boston Historic Sites iPad kiosk and Android and iOS app launching in launching in Spring 2012. Their apps have an offline mode, but the option to download content into the Alaskan app didn't work for me on a high-speed network.

KanvaSys - $20k+ one-time, or $8k+/year if hosted. KanvaSys is part of Ideeclic, a Canadian company which began creating web sites and educational games for the Alberta and Quebec school boards. Their platform is called "inSitu," and they can skin it for different apps. KanvaSys' latest app, "Biosphere" for the Environment Museum is free, but doesn't have many reviews in the app store yet. Their "Cleveland Metroparks Zoo" app has a 3/5 rating.

Adlib – €2k EUR/ year for a 3 year contract, plus the cost for underlying Adlib Museum system, a local collection management system. The advantage is that the app content comes from the collection management system, so it does not need to be re-entered.
Antenna International - Full pricing is not disclosed. Antenna is a big player in audio tours. They have two billing models. Their 'Universal' plan involves Antenna taking the risk, owning all the content, and handling all the logistics of the hardware. All visitors have access to the tour as part of their admission fee, and the museum commits to pay Antenna approximately 50 cents per head for 3-5 years. So a million visitors = $500k to Antenna, with no upfront cost to the museum. Their other main option is 'leasing' which costs $17-20/month per device.

As with the Universal plan, Antenna handles logistics (headphones, maintenance, repainting damage, staff training on best practices, and delivers sufficient devices to meet demand). Often museums have seasonable demand, so Antenna will ship over a few hundred (rarely as many as 1000) additional devices for a few months. A baseline of 250 devices would cost around $55k per year. Prior to launching their proprietary XP Iris device, which is a touch screen and number pad, they had options to buy iPod Touches, but Antenna is phasing out commodity hardware, and pushing customers to use their devices. A downside of working with Antenna is that you usually don't own your own tour, and especially not any celebrity voices they might recruit, so you can't spin the content into less expensive tours, post them to YouTube, or use them for any other purposes in the future. Antenna has a new CMS, called "publisher" which allows organization staff to rearrange a tour, or upload a new piece of content. Examples of the CMS in use, offered by Ken Husband, was the marketing department adding a "stop" promoting a sale in the museum shop, or the curators removing a stop for an item which is on loan.
Other vendors at the conference are higher-end, full service firms who create custom apps. These vendors are often vague about their pricing, though  vendors try to keep costs down by reusing features between apps. Full service firms at the conference were: Art Processors, EarPrint, Espro Acoustiguide Group, GVAM, and Imagineear.
Why native apps?
With a native app, visitors don't have to struggle to read your web site into their small screen. And while you should have a mobile-formatted version of your web site (a web app), native apps give organizations better branding with an icon directly on audience's home screen, and provides a smoother and richer user experience. Plus, a native app can work when there's no internet connection.
One important detail: Make sure you are the official "publisher" of your app, so that when you improve the app in the future, or change vendors, your visitors automatically get the new version of your app.
---
Update: 27-Oct-11. Added new information provided by Tristan.