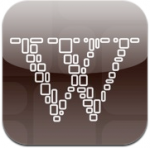 IDEA's second mobile app, WikiNodes (see app store link) puts the encyclopedic knowledge of Wikipedia at the fingertips of iPad users. Articles are displayed as nodes that can be touched, dragged and spun around — showing the relations between articles and sections of articles. The app is currently featured in Apple's app store.
Here's a 30 second demo:
The app is based on IDEA's SpicyNodes system for displaying and navigating information using nodes (see SpicyNodes.org). The SpicyNodes approach has great potential for other subjects, from browsing museum collections and archives, to browsing flora & fauna, and many other kinds of linked data.
Encyclopedias contain large amounts of interlinked information — which is begging for a creative and engaging visualization. Tap any node, and it expands to give you more information. Or, switch to a full-page view to display articles as pages, then scroll up and down. Nodes link together sections of Wikipedia articles and related topics, making Wikipedia come to life. Browse in a way that mimics how you look for things in the real world.
Tablets are the new frontier for conveying art and science to the public. Industry analysts estimate that by the end of 2012, there will be 100-120 million tablets. IDEA will produce apps for whatever platforms have the lion's share of the market.
Getting a new app noticed by the world is a huge challenge, as the app store is flooded with hundreds of new apps every day, of varying quality. Our download rates increased by more than 10x when featured by Apple as a "New and Noteworthy" app on their iTunes main screen.
Upcoming features for the app include multilingual support (many users are in non-English speaking countries), and other enhancements to browsing (e.g., bookmarks and more linked nodes). The app is currently free, but not for long.