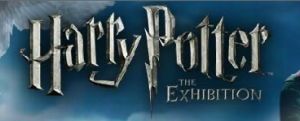 In April 2009, a dozen 53-foot tractor trailers delivered the latest blockbuster exhibit — Harry Potter: The exhibition — to the Museum of Science and Industry in Chicago. The exhibit was big on magic, with 400 costumes and props from the films, including 17 wands, Harry's famous round glasses, the Marauder's Map, Harry's Nimbus 2000 broom, Hermione Granger's Yule Ball gown, and a lot of oversized furniture. The movie props were big draw. The exhibit was at the start of its tour, and the Chicago museum was the first venue.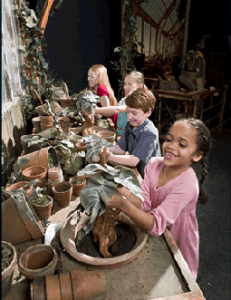 Visitors learned first-hand what it's like to pull a young Mandrake from its pot, and they delighted in wizardry. The science was thin, but like other blockbusters, the goal was to bring visitors in the door, draw money to the museum's coffers, and get the general public to think more positively about science in general. "There's no escaping that popular culture is popular," said Paul Fontaine to the Boston Globe. Fontaine is vice president of education at the Museum of Science in Boston (the second host of the exhibit), and acknowledged that there was "some real concern about why is this at a science museum." He noted, however, that there was a "huge competition for this exhibit" and that exhibits linked to pop culture are increasingly common. "Star Wars," "CSI," superheroes, and "Lord of the Rings" exemplify the pop culture exhibit emphasis. Boston museum CEO Miaoulis underscored the value of lowering the intellectual bar, saying in a statement, "We're confident that this exhibition will attract visitors of all ages—some of whom may never have visited a science center. This exhibit will spark their curiosity and imagination, leading them to experience the excitement of discovery that's also at the heart of the museum's science and technology exhibits and programs."
The blockbuster approach works, at least where attendance and money are concerned. According to Bob Fisher, CFO at the Museum of Science and Industry in Chicago, these kinds of exhibits often boost attendance by 20-40%, with the Harry Potter exhibit delivering around a 40% attendance boost. Part of the boost is because temporary exhibits provide a call to action to visit a particular museum. The quantity of science might not matter a lot, but a blockbuster does need to fit their mission. Mr. Fisher notes that his museum declined the Mummies exhibit, which they felt was better suited for the Field museum, a few miles north in Chicago.
A large traveling exhibit (e.g., Harry Potter, Body Worlds, Leonardo da Vinci's Workshop, Mummies) can cost host museums up to $2 million to rent, depending on the content, brand name, and duration, though the exact licensing terms are closely guarded. Mr. Fisher says the cost for most blockbuster exhibits tends to hover in the same overall range. Occasional sensations like King Tut can cost more. In addition to rental fees, large shows require marketing expenses and extra staff (Harry Potter took 10 full-time staff).
Like movies or books, this kind of traveling exhibit is produced by companies hoping to turn a profit. For topics suitable for a short run, the costs are spread over several hosts. The Harry Potter show was produced by GES, a subsidiary of Viad Corp, which produces permanent and semi-permanent exhibits for trade shows, museums, and other venues, and bills itself as an "experiential marketing agency…creating meaningful and memorable brand experiences." GES fronted the costs for management, design, development, production, materials, and licensing (from Warner Bros. Consumer Products), and produced an exhibit that they then pitched to science centers. So far, GES has drawn lease income on the 10,000 sq. foot (1,300 sq. meter) Harry Potter show from four hosts. It opened at Chicago's Museum of Science and Industry (summer 2009), moved to the Museum of Science, Boston (winter 2009/2010), Ontario Science Centre (summer 2010), and ends its U.S. run this weekend at the Pacific Science Center in Seattle. Ticket prices were approximately $25 per adult and $15 per child.
MSI Chicago had a burst in attendance and membership (graph at right). Similarly, according to the Boston museum's 2010 annual report, their total attendance was 1,735,000, up 10.8% over 2009's attendance—thanks largely to Harry Potter. The exhibition helped set the record for the highest attendance in a one-week period during February 2010 vacation week, attracting 108,198 visitors.
Exhibitors prefer their cash up front, as a fixed fee, but museum administrators prefer to diffuse the risk with licensing agreements based on revenue share. According to Mr. Fisher, having exhibitors put some skin in the game spreads the risk, but regardless of the licensing agreement, the exhibitors rarely contribute much to promoting an exhibit. That's up to the host museum.
In considering whether to lease a new traveling exhibit, Fisher says they try to predict incremental revenue and expenses, not only for the tickets for the special show, but also revenue from general admission, parking, etc. Similarly, Michal Anderson, CFOO of the Pacific Science Center, the fourth host for Harry Potter, says, "It is always difficult to project the types of net revenue expected from blockbuster exhibits. On blockbuster exhibits, the cost to bring the exhibit to the center is so high, it often does not bring in more than general admission for a smaller exhibit. There is also a risk that the exhibit will not generate enough ticket sales to both pay for the increased rental fee, and cover the normal general admission revenue expected for that time of year.  Of course there could be upswings from ancillary sources such as membership, café and parking. For Harry Potter, we experienced a significant increase in membership, the effects of which will carry on for several years….Additionally, the day-time ticket included general admission to Pacific Science Center and exposed thousands of people to our science, math and technology exhibits and programs for the very first time."
The seventh installment of the Harry Potter film franchise, "Harry Potter and the Deathly Hollows, Part 1," earned $943.3m in worldwide ticket sales. Movie costs and revenue are public. But due to confidentiality agreements, the finances of museum exhibits are opaque. Ms. Anderson says she does not "share exhibit fees with colleagues, nor do they share them with me. Each science center must forecast the results of a particular exhibit and make the decision whether or not to move forward, and it is certainly not without risk." This is echoed by Mr. Fisher, and John Slakey, VP of Finance for the Museum of Science, Boston, who says, "The revenue and cost information regarding our blockbuster exhibits is confidential and we do not share it externally."
Pop culture gets visitors in the door. And movie studios appreciate the opportunity to further monetize their brand. But when content is driven by marketing executives, science education is not part of the equation. Alongside with Happy Meals and T-shirts, movie studies have a new marketing channel. Brad Globe, president of Warner Bros. Consumer Products division (which handles licensing and merchandising deals) said in a statement, "Fans around the world will finally be able to see the incredible craftsmanship and detail that went into creating their favorite props and costumes." And the CEO of the exhibit production company, Glenn Tilley, said he was proud to be a "source of creative entertainment-based attractions," following on their prior collaborations with Warner Brothers, "Happy Feet Snow Globe Experience" and the "Fred Claus Snow Globe Experience."
What does the growth of pop-culture blockbuster exhibits mean? Is it a sign that a science museum is obsolete? Or does it represent a bold move towards museums engaging a broader public and gaining financial independence from governments and donors?