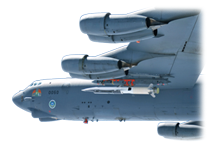 Drones, spy robots, Mach 6 warplanes, new energy sources, and climate monitoring are just a few of the new technologies being developed by the U.S. military to fight the wars of the future. These technologies depend on cutting edge scientific knowledge, and are fantastic ways to get the military-oriented public (nearly 30 million Americans) excited about science and appreciative of the applications of scientific research.
The largest science outreach program telling the public about military-related science is a popular blog, Armed with Science, which features podcasts and short articles by scientists and other staff in various military departments.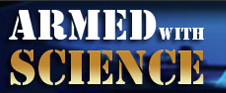 "The portrayal of science–its methods but also its practitioners and its impact on our lives–has often posed a challenge to communicators", says Dr. John Ohab, the project lead for Armed with Science. "Similarly, the scientific community has struggled to find an effective conduit through which it can communicate its stories." With Armed with Science's blog and podcast series, "we provide a mechanism for scientists and engineers at the Department of Defense (DOD) to communicate first-hand with the public."
The idea of Armed with Science was conceived in 2008. Several U.S. Navy public affairs staff were thinking about new kinds of outreach using podcasts and social media, and Ohab was working in the department on a fellowship. The funding came from DOD's public affairs department (the Defense Media Activity's Emerging Media Directorate).
Ohab developed an online, weekly radio show which launched in January 2009. The show featured scientists, engineers, and other experts from DOD, other federal agencies, academia, and industry. It was broadcast live on BlogTalkRadio, taking questions via Twitter. There were 64 episodes, covering a wide range of sciences, and the podcast was downloaded nearly 200,000 times in 2009.
After Ohab's fellowship ended, the Directorate hired him as a contractor via an existing contract with defense contractor OMNITEC Solutions. OMNITEC had prior experience with podcasts and social media, as well as ghostwriting and editing speeches and publications.
Inspired by the success of the podcast, in January 2010, additional staff were brought on, and the podcast evolved into a blog. In the blog, contributors to Armed with Science could share personal narratives, images, and videos. The Armed with Science team also posts headlines from their blog and related news to Facebook (2726 likes), and Twitter (8362 followers). In 2010, Armed with Science published 290 blog posts, 15 webcasts, and 45 YouTube videos. They had over 600k visitors and 250k YouTube views. The blog was the 4th most visited out of 80 Department of Defense blogs, a department that extensively uses social media (see list).
Sources of material
The blog draws its content from the community. Ohab and his colleagues play a facilitating role, recruiting and coaching scientists and other contributors to give them posts. According to Morris Brown, CEO of OMNITEC, this facilitatory role provides a more complete picture, rather than producing all content in-house. Public affairs departments have learned that sanitized statements from public affairs can sometimes fall flat in the social media age. Brown says, "It's got to be authentic." Also, facilitating content from volunteers is more cost effective than researching and producing all content from scratch.
Ohab says that his three-person team tries to keep the content diverse, with "breaking news, human stories, research findings, generally 'cool stuff,' gadgets and gizmos, and topics related to the overall mission of DOD (e.g., warrior care)" as well as to keep the tone authentic. Most blog posts are written by scientists, engineers, and other experts. He says they "encourage contributors to write in the first person and share their personal experiences and motivations," as opposed to tepid mission statements and repurposed releases. The team carries the authenticity over to microblogging, where Ohab says, "we also try to infuse our own personalities into Facebook posts and tweets."
The blog receives submissions from staff at other DOD laboratories (e.g. Army Research Laboratory), funding agencies (e.g., Air Force Office of Scientific Research), industry collaborators (e.g., SENDS & The Science of Cyberspace), and DOD-funded academics (e.g., neuroscientist William Tyler at Arizona State). At times they also cross post articles from civilian federal agencies.
They also have several ongoing series centered on specific themes. These include: learning technology, modeling and simulations, gaming, contests, distinguished lectures, Operation Deep Freeze, and the current 'IceBridge' series.
What kind of impact?
Armed with Science has great potential to accomplish a broader goal of boosting scientific literacy and improving attitudes about science among members of the public who are interested in the military, but not in science. The open question is how much this broadens the audience: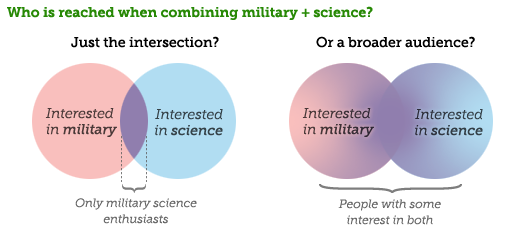 As covered in our recent article about "Framing art and science in terms of national security," military is a massive force in our country, with over 3.6M military personnel, 1.9M spouses & kids of active duty members, and over 22M veterans (plus their families).
Educators interested in improving science literacy among this large chunk of the US population and their supporters might keep in mind military themes when looking at possible hooks to capture their interest.
In their struggle to bring in visitors, U.S. science centers are increasingly turning to blockbuster exhibits (see 'Traveling blockbuster exhibits, $2m a pop, draw a crowd') about sensationalized topics (see 'Currently featured exhibitions at U.S. science centers') like plasticized dead people, monster sharks, King Tut and Star Wars. There's virtually zero coverage by large civilian institutions of the hot science being done by the U.S. military.
According to Brown, the metrics for Armed with Science focus on raw traffic numbers, geographical distributions of visitors, and tracking the popularity of various topics. But they do not track users with cookies or IP numbers, and they do not currently survey visitors. Brown says that in his experience with military public affairs, it's difficult to accurately measure impacts, and crafting content based on surveys and polling sniffs too much of propaganda. Moreover, on a practical level, Brown says a self-selection bias of respondents could skew results anyway. He says a survey of the impacts of cross-discipline (science + military) outreach on different types of audiences could most likely come from the academic community.
Take aways
1) Facilitating (rather than production) is a good investment for social media. Help others create content.
2) Military topics open up a wide possible audience for science outreach, and may be useful and appropriate for other kinds of educational outreach.
---
Update on 6-Apr-11: Clarified origins of project and role of OMNITEC; added Venn diagram.