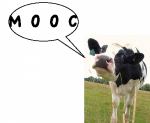 Undergraduate education is valuable, but expensive, averaging $375/course at a community college, and $3.5k/course at a private university. As higher education explores new business models, many are trying out  free massive enrollment courses. These courses are typically not for credit (which is easier to administer and get internal approval for), and allows the schools to see what it takes chance the assumptions about delivering education. 

Many universities are now offering free certificate programs online that are available to everyone. The concept is that while many people either can't afford traditional schooling or cannot attend a traditional classroom schedule or setting, many of them still want and need to learn new skills. Dan Colman at openculture.com has compiled a list of 75 of the best free certificate courses, ranging from Stanford's cryptography offering to Johns Hopkins' Principles of Obesity Economics.
Still, the current generation of courses often disappoint, as it's hard to find a balance between traditional classroom learning and independent online learning, and also keep the price free. As colleges and universities move deeper into on-line learning, they limit face to face classroom time with instructors teaching course content. Dr. Richfield, a researcher and professor at the University of British Columbia, is skeptical of the current generation of courses. She writes in "Preparing for the MOOC-ocalypse" that universities must "develop integrated programs with hands-on and face-to-face experiences that are seen as worth the cost."
But what does integration mean, and how is the balance reached? Redfield suggests that "Ironically, the best way to prepare for this MOOC-opalypse may be to become part of the problem by teaching a MOOC." One approach, borrowing from the "flipped classroom" widely discussed for younger students, students can learn the course work independently, using online tools and watching videos from their dorms, and use class room time for discussions and problem solving.
---
The need for a radical re-working of the costs of education is clear. Education is absurdly expensive. The following is a breakdown of estimated undergraduate budgets for 2011-2012. The dark blue is tuition and fees. For public 2-year commuter colleges, it's just under $3 thousand; and for a private nonprofit 4-year campus, it's $28.5k. (The per-course costs assume 8 courses per year.)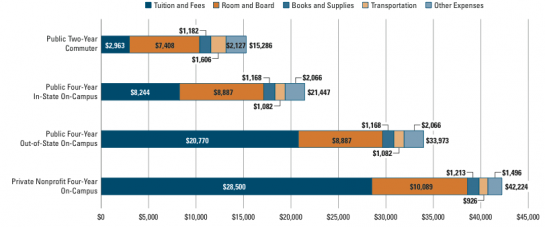 Source: Graph of tuitions undergraduate budgets from The College Board, Annual Survey of Colleges. PDF.