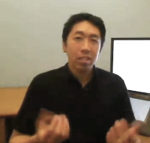 "Being able to teach machine learning to tens of thousands of people is one of the most gratifying experiences I've ever had," says Stanford University computer science professor Andrew Ng.
Over 100,000 students signed up for his free, fall 2011 course on machine learning. The impacts were huge. Over 12% of the students completed the course, and received a statement of accomplishment. Ng says he "heard many stories from students about how they're using it at work, about how it's inspired them to go back to school, and so on." In contrast, Ng's normal, for-credit course at Stanford, one of the most popular on campus, would enroll 350 students.
It's part of a new revolution in higher education, and it's serious learning. They deliver complete courses where students are not only watching web-based lectures, but also actively participating, doing exercises, and deeply learning the material. Students are expected to devote ~12 hours a week to the course, to read and watch course materials, complete assignments, and take quizzes and an exam.

Online students did not receive one-on-one interaction with professors, the full content of lectures, or a Stanford degree — those who completed the course received a statement of accomplishment. Course materials include prerecorded lectures (with in-video quizzes) and demos, multiple-choice quiz assignments, automatically-checked programming exercises with an interactive workbench, midterm and final exams, a discussion forum, optional additional exercises with solutions, and pointers to readings and resources.
Ng promotes the Fall 2011 course, on machine learning:
Other Stanford professors experimented with massive enrollments in free, online courses.
In Fall 2011, professor Jennifer Widom offered a version of her introductory database course. Over 90,000 accounts were created, 25,000 students submitted at least some work for grading, and 7% of students (6,500) did well enough to receive a "statement of accomplishment." Most of the material was a subset of what the Stanford students did. Widom created different exams for the public students, and led weekly video chat. One bonus, Widom notes, is that they made everything "100% error-free as the 90,000 public students found every conceivable bug."
Similarly, over 160,000 students enrolled in professor Sebastian Thrun's college course on Artificial Intelligence in Fall 2011, co-taught with Google's Peter Norvig. They graduated 14% (23,000 students) from 190 countries.
Thrun promotes his latest course, on building a search engine:
The success of these courses have convinced Thrun and Ng that online courses are the future.
Since the success of his course, Thrun has spent roughly $200,000 of his own money, and raised venture capital, to create Udacity, a new online institution of higher learning independent of Stanford. (He had resigned from Stanford in April 2011 to focus more on his work at Google, where he has a senior position.) 

Last week, Udacity announced two classes — building a search engine and programing a self-driving car — with plans to eventually offer a full suite of computer science courses.
Udacity will be set up as a teaching institution, not a research institution. "At Stanford, priority is your research career," says Thrun to Reuters. "That is counter to teaching 100,000 students, who generate 100,000 emails." Stanford is the institution being disrupted, it's not the institution doing the disrupting. Similarly, Thrun isn't doing Udacity in direct association with Google. He told Reuters that that Udacity does fit quite easily into Google's mission of making the world's information available for free. "Having a clean slate is a better way to start … The last thing I want is people asking whether Google is disrupting education. Better to ask if Sebastian is trying to disrupt education."
To read more about Udacity, and speculation on it's impacts, see two recent articles:

Similarly, Ng and Stanford professor Daphne Koller have funded and launched a new company, Coursera, and are currently hiring staff, with "16 courses launching in winter and spring, with more on the way."  These new courses are intended provide people with "access to world-leading education that has so far been available only to a tiny few. We see them using this education to improve their lives, the lives of their families, and the communities they live in," they say on the interim Coursera site.

The focus on 'world class' education on a post-secondary level is a distinct difference from other successful online learning sites, such as Khan Academy, which also reach massive numbers of students. Khan has 2,800+ video lessons on academic topics that range from arithmetic to physics, finance, and history and 290 practice exercises. So far, Khan Academy has delivered these lessons over 116 million times, and is a popular tutoring site for K-12 course subjects like algebra. Khan Academy is also pushing the boundaries, recently expanding into humanities and cultural subjects, but they are still focused on concise lessons that consume a few hours at most, not a full course or degree.
Here's an example of a Khan video about the geology of the Hawaiian islands:
There are other experiments with eliminating direct communication with an instructor. For example, University of the People, launched in 2009, is a tuition-free, online university targeting developing countries.

The University has accepted 1,200 students (3% of applicants) from 121 countries so far, and charges a $10-50 enrollment fee, depending on the GDP of the country. They use existing, free online materials (not audio/video because of low bandwidth in the 3rd world), paired with extra structure and discussion.

MIT recently announced plans to launch an open platform for free online classes, MITx, offering certification for those who demonstrate mastery. This is an expansion on MIT's last decade of work in creating a robust free online library of its course materials called OpenCourseWare (OCW), which includes 2,100 MIT courses and has been used by more than 100 million people. In May 2011, New York University began allowing students from University of the People to use their online credentials to apply to study at its Abu Dhabi campus.
This new breed of online courses — run by stellar educators with intense technical abilities, striving to serve massive numbers of students — is exploding the possibilities of online education. These courses eliminate traditional constraints: Students do not come to a physical classroom, they do not have class at the same time, and they do not pay for their courses. The instructors also have a lot of slack, in terms of the technical ease-of-use. Computer science assignments are good candidates for online assessment, and the self-selected pool of students is technologically savvy.
As these massive online courses evolve, the traditional education industry will have to respond.
See also my related post, on online courses for learning skills, which I recently wrote about. That article looks at courses at MoMA, NYT, and several for knitting. It's different because the courses focus on delighting learners with personal — not professional — skills.