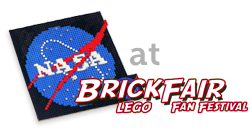 A cheap and effective way to do community outreach is to piggyback or partner with existing events. NASA did this in a subtle and effective way earlier this month at an annual event for LEGO enthusiasts. "BrickFair" drew over 17 thousand people in a August weekend to a conference center near Dulles airport.
LEGO models of every shape and size were spread on tables. The models were created by kids and geeky adults, on topics from fantasy, to trains, to animals, to space. Front and center, near the entrance, the NASA Aeronautics directorate set up a display with a large banner, some astronaut paraphernalia (e.g., gloves), and an assembly of LEGO models created by enthusiasts.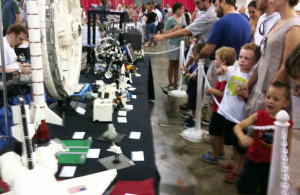 A steady stream of kids poured by the NASA booth. The LEGO event had 941 participants showing their models, and 16,500+ paying attendees.
Origins of the partnership
According to fair organizer Todd Webb, in 2009, NASA suggested some involvement in the show, but "NASA involvement was small and most wondered 'what is that guy doing sitting there?'" Webb realized that to make it work, they had to kick it up a notch.
From NASA's point of view, summer 2011 was good timing. The Space Shuttle Atlantis recently landed, and the Juno mission would launch during the LEGO event. NASA looks for opportunities to promote science, technology, engineering and mathematics. It's a priority for both President Obama and NASA Administrator Charles Bolden. According to Tony Springer, the head of communications and education for NASA's Aeronautics directorate, it was also logistically easy: NASA Headquarters was a short drive away, so "it made sense for us to participate." Springer's department is interested in reaching both adult attendees, and youth.
Webb says, "I suggested NASA would make a cool 'theme' one year, then we'd have a special logo, t-shirts, a trophy, etc." At the time, 2010′s theme was planned, so they agreed to do it in 2011. Webb has themes for the LEGO fair each year. Past themes have been "food and drink," and "music." He says, "Normally I wouldn't be quick to accept a 'corporate' type of entity as our theme.  That's not very fun.  But NASA isn't too corporate.  And it's generic enough — spacey — that we could encourage people to participate, build models for the theme."
The NASA booth was much more professional looking in 2011, said Webb, and they had "even more cool stuff… and made a nice presentation." NASA was responsible for their display, and brought their own table clothes, display cases, and props.
For Webb, the motivation was the "neato-factor," and also providing appealing mood for his events. He said the NASA presence did not boost attendance. For LEGO enthusiasts, "LEGO is all the attraction needed, and is all we feed off of."
Audiences & impact
According to Springer, NASA looks for events that are "STEM-appropriate." Anything from an education convention to an air show. In general, it's a nerdy crowd at a LEGO event. Springer says, "Many of those attending BrickFair events are already predisposed to STEM disciplines: "self-interested," according to the term of art. We are trying to amplify that interest. Since they are so attentive to design and construction, devoted LEGO builders seem to have an innate STEM interest. We hope that one day they may make the decision to transition that personal fascination into a STEM-related career, which we think would be a very positive thing."
Springer is looking for "quality and not necessarily quantity. That translates during a given event into solid interactions with attendees; substantive conversations with educators and students that we then follow up with actions like emails, phone calls, and further exchange of educational materials. Leveraging strong initial contact with subsequent, sustained relationships (online or in person) is how we define success."

Implementation details
To make it work, NASA had to do some leg work and provide some swag. At LEGO events, the majority of participants are fiercely independent in their interests. Webb says annual theme tends to draw just a few builders. Adult LEGO fans "don't like to be told what to build, and most just build what's in their genes.  So I bribed them with big prizes (an autographed book donated by NASA and a large LEGO set).  The turnout of NASA MOCs was pretty good I think."
In terms of promotion, there were a few ground rules. Administratively, NASA created a Space Act Agreement with the Festival. Due to NASA's strict regulations on external use of its logo or those of any its research partners (e.g., Boeing), Webb's event was required do something special for its NASA-themed Event Kit. While the kit itself could not include the NASA logo on its label, instructions or any photographs, Webb was able to include a special tile with the NASA logo and a plain white 2×2 LEGO tile as choices for "the very last piece to be assembled." The instructions stated: "So now you have 2 tiles left.  We leave it to you to decide which to add to your model."
Reaching other audiences? 
The LEGO event was a great fit, but can they push the envelope? Springer says NASA Aeronautics has no current plans for more daring events, like Comic-Con. That's a shame, since there's a huge overlap between science and science-fiction geeks (see post by  Whitney Clavin of NASA's Jet Propulsion Lab  from the 2010 Comic-Con.)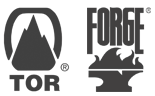 Meanwhile, the folks at Goddard are exploring collaborations that cross over into the arts. NASA and Tor/Forge recently announced a new publishing collaboration to meld the sensibilities of strong science fiction with equally strong space science. It will team up Tor/Forge authors with scientists from the Goddard Space Flight Center. Tom Doherty, publisher of Tor Books, said in a statement, "When I was a boy, books by Isaac Asimov, Robert Heinlein and their colleagues excited me, inspiring a lifelong fascination with space and the science and technology that would get us there."
Do it yourself
To do community outreach in the sciences or humanities, take a fresh look at local/regional events. Who can you partner with?