Mobile is exploding, and this has vast implications for education. Here's a summary of top news and trends for mobile this summer…
Smartphones are popular phones. According to Nielsen, 38% of Americans now own smartphones, and 55% of those who purchased a new handset in the past three months bought a smartphone (rather than a dumb one), up from 34% a year ago. Android's growth curve flattened in 2011 while the iPhone's got a boost. Collectively, Android and iOS are activating over 800k devices per day.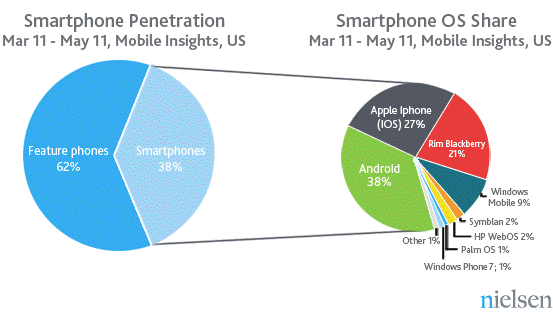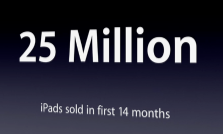 Tablet computers are dominated by Apple's iPad which sold over 25 million units as of June 2011, since launch in April 2010. Competing manufacturers have been slow to launch compelling alternatives. The HP TouchPad (running webOS 3) is launching this week, and is lauded for being attractive and easy to use, but has started off with lukewarm reviews before launch for being bulky, and as Walt Mossberg at WSJ says, "poor battery life, a paucity of apps and other deficits." The RIM BlackBerry Playbook (running BlackBerry Tablet OS) launched April 2011, but it was widely disliked by reviewers and the public, and sold only half a million by early June. Currently, monthly shipments of Motorola's Xoom, Acer's Iconia, Asustek's Eee Pad Transformer (all running Android 3 Honeycomb) and RIM's PlayBook average at about 100-200k units.
Tablet apps are exploding. Again this is dominated by Apple's platform, as developers perceive it to be the best platform to invest their efforts. In 453 days since the original iPad came out on April 3, 2010, the App Store has more than 100k iPad apps available (i.e., targeting the tablet, not just a scaled up iPhone app).

Electronic books, such as Amazon's Kindle, are gaining popularity as convenient, inexpensive devices dedicated to reading. Pew reports that 12% of U.S. households now own an eBook device. That doubled from November 2010 to May 2011. Meanwhile, in May 2011, 8% of adults report owning a tablet computer such as an iPad, Samsung Galaxy or Motorola Xoom.
Social media is related to mobile, and one new twist is Google+, Google's latest foray into social media. It follows on Google's prior ventures (Orkut, Buzz, and Wave), and is off to a good start with positive press and reviews. TechDirt thinks it's main advantage is that it's not Facebook.