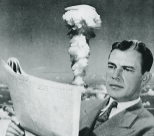 The term "strategic communications" has become popular over the last two decades. It means infusing communications efforts with an agenda and a master plan. Typically, that master plan involves promoting the brand of an organization, urging people to do specific actions, or advocating particular legislation.
It can refer to both a process, and to a specific job title.
Why strategic communications?
The field of 'communications' is broad, encompassing professionals who create news or want to push information to the public (public relations, public information, marketing), people who deliver news and media to the public (journalists, audio and video producers, public speakers, educators), and people who study the interplay of media and society (researchers).
Strategic communications fuses the "pushing" and the "delivering." According to Shayna Englin, who teaches public relations and corporate communications at Georgetown, "being strategic means communicating the best message, through the right channels, measured against well-considered organizational and communications-specific goals. It's the difference between doing communications stuff, and doing the right communications stuff."
Several factors spawned the field:
New methods of outreach — There are now many more avenues available to reach the public than the now-crumbling empires of advertiser-sponsored newspapers, magazines, and television. For example, a scientific or arts organization might simultaneously pitch stories to journalists, write a blog for the public, and post to Facebook and Twitter.
Consistency & coordination — There is a greater need for consistency between departments, since the public can easily Google anything online. More coordination is also needed, as the same communication channels (e.g., Facebook) are useful for education, marketing, education, advocacy, fundraising, etc, and organizations need to strike a balance between getting out important messages and also attracting readers.
More professionalism — Also, there is a problem of amateurs running amok. Just as desktop publishing allowed anyone with a PC to make a newsletter or magazine; the Internet de-professionalized communications. The first generation of web sites in the 1990′s were created by tech departments and kids (not communications professionals), and the first generation of Tweets and blog posts were typically made by young staffers. ('Let's have the intern start our Facebook page!')
Against this ever expanding variety of media, and low barriers to entry, it was easy to waste resources or embarrass an organization. Unstrategic communication became more common. Sure you got a lot of hits, impressions or followers, but so what? Executive management wanted their communications to accomplish more concrete goals.
According to Tom Kelleher, chair of the School of Communications at the University of Hawaii, the opposite of strategic communications is "seat of the pants" communications. He says that cranking out press releases and seeking media coverage can feel productive, but without a master plan, there's a risk of misallocating effort. This is particularly a problem for junior staff or people who come from an advertising background, because they can be too focused on media impressions (e.g., how many people listened to our advertisement on the radio) instead of concrete outcomes (e.g., how many people got flu shots, or how many people learned about the melting arctic).
Depending on the nature of an organization, strategic communications can range from marketing to policy. According to Emily Tynes, Director of Communications for ACLU, and coauthor of a guidebook for nonprofits, "In the world of nonprofits, strategic communications is an orchestrated use of channels of communication to move and influence public policy or to promote an agenda. By comparison, strategic communications planning in corporations is mainly geared towards the promotion of products."
Karen Green, manager of communication and outreach at the Renaissance Computing Institute at UNC, says it's about having a plan, not "simply reacting and responding." For her, it's about "framing a discussion on topics and issues that are important to my organization in a way that gets the organization's name out there. This in turn builds the organization's reputation and street credibility." As an example, with the recent explosions at the nuclear reactors in Japan, since her organization is involved in high-end computing, she promoted her organization's director to journalists as an expert on computer modeling of the inner workings of nuclear reactors.
The importance of branding is echoed by Rena Pederson, the communications director for the National Math and Science Initiative. She says, strategic communications "includes tactical steps like branding so that the public image is a good one, positioning yourself in all materials and media outreach to maximize your impact, all with an eye to where you want to be not just this month, but next year and five years from now."
Other definitions
Warren Mason a professor of business and communication studies at Plymouth State University in New Hampshire, says that in his course, strategic communication is about dealing with "issues that might jeopardize an organization's very survival" and nothing to do with marketing.
To Mason, it's about 'Issues Management/Planning' and is an effort to anticipate problems and crises before they occur. Mason says, "For example, with an internal audience, such as employees, this planning could include planning for a potential layoff by management or a strike by employees.  As to external threats, this could be anything from a fire or explosion at a place of employment, to an oil spill improperly handled by a large oil company, or workplace violence anytime, anywhere." These issues can be internally or externally driven, and call for planning, meticulous planning, and diplomatic followup. "Proper media relations, both during and after these scenarios, will drive perceptions in the court of public opinion and greatly impact the organization's image and reputation."
Speaking of diplomacy, in diplomatic/military contexts, strategic communication is a process for delivering a unified message through public diplomatic channels, public affairs (government spokespeople) and information/psychological operations.
A profitable adjective
According to Simply Hired, the average U.S. salary for a 'communications director' is $65,000. But for a 'strategic communications director,' it jumps 17%, to $76,000. (Includes all sectors, not just nonprofits; salaries are higher in major metropolitan areas.)
An increasingly common phrase
On idealist.org, a leading web site for posting job listings in the nonprofit sector, there are currently 72 full time job listings that contain the phrase "strategic communication," and more generally, 1208 full time job listings that include both the words "strategic" and "communication."
The phrase "strategic communications" became more commonly used in the 1990s. The following graph shows how often the phrase appears among all the books in a given year scanned by Google's books project:

For another view, this is a timeline of the number of occurrences of "strategic communication(s)" in web pages indexed by Google. In this frequency graph, use of the phrase takes off more in 2001. Google's algorithm looks at the dates in context. For example, the sentence in a 2005 press release, "Founded in 1908, the Missouri School of Journalism has set the standards for journalism and strategic communication training for almost a century" appears on the graph for 1908:

In a later post, we'll look further at the process of strategic communications, how some of the activities can be adopted for promoting science or culture agendas, and possible pitfalls.