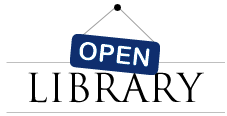 Patrons at 150 local libraries have a new option to borrow eBooks on their computers or iPad. Yesterday, Internet Archive launched a cooperative of libraries who are pooling resources to make eBooks available to their patrons. Patrons can now borrow any of 9,313 eBooks which have been purchased or scanned by any of the participating libraries.
The books for borrowing at OpenLibrary are analogous to normal library loans, with each loan lasting up to 2 weeks. That eBook can be read on a desktop Windows or Mac computer (using Adobe Digital Editions), or within a web browser using Internet Archive's BookReader web application (this works on the iPad too). The Amazon Kindle is not supported.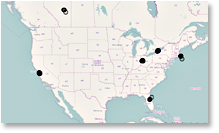 A small pool of libraries who were invited for the launch, and OpenLibrary hopes to expand. The dots on the map at left show the initial 150 libraries. Brewster Kahle, founder and Digital Librarian of the Internet Archive said by email, "We would like others to join into the next phase, so we are building a list and will regroup in a month or so." There is no fee from Internet Archive for libraries to participant, but they do have costs in that "they have to contribute to the pool of books."
This new borrowing program is a component of OpenLibrary.org, a web site that already allows the public to read 727,999 free works. Here's a distribution of free and for-lend works available from OpenLibrary:

The scales on these two graphs are different, but the eBooks for newly available lending tend to be in the mid-20th century, plus a few dozen commercial titles per year over the last few decades.
Growth of eBook readers
eBooks are read on desktops, laptops, and increasingly on tablets and dedicated, handheld eBook readers. Tablet computers are exploding — see our post from last week, "100 million tablets by end of 2011: What will it mean for learning?"
As for the e-book and e-reader  (dedicated devices) markets, last month, Futuresource Consulting reported that in 2010, the global e-book market grew by more than 200% to exceed 90 million paid-for units. They reported, "this equates to a value of more $900 million and was largely attributable to growth in the US region, which represented more than 80% of global revenues last year." Rapid US e-book market growth and consumer adoption was predominantly driven by Amazon's loss-leading strategy on key e-book titles purchased through their Kindle store and Kindle app. A similar strategy was temporarily adopted in the UK.  For many countries across the region — including Italy and Spain – 2010 was the first full year that e-readers were readily available at retail. Complementing the boom in handhelds, a recent survey of 1,201 libraries across North America conducted by Unisphere Research and Information Today reported that 73% are seeing increased demand for digital resources, 67% have increased demand for wireless access, and 62% are seeing a surge in demand for web access.
Related services
A related site, Project Gutenberg,  allows free download over 33,000 free ebooks to read on PC, iPad, Kindle, Sony Reader, iPhone, Android or other portable devices. And a related commercial service, OverDrive, provides eBooks to libraries. Overdrive is a sharepoint-like portal that delivers DRM'd ebooks (usually PDFs) to library patrons. Overdrive has 500,000+ digital titles from more than 1,000 publishers, including Random House, HarperCollins, BBC Audiobooks America, Harlequin, and Bloomsbury; and they serve 13,000+ libraries, schools, and colleges worldwide.
Benefits to libraries and publishers
In addition to broadening their collections of commercial eBooks, OpenLibrary helps participating libraries share access to older books and protect them from wear. Judy Russell, Dean of University Libraries at the University of Florida, said in a statement, "We have hundreds of books that are too brittle to circulate. This digitize-and-lend system allows us to provide access to these older books without endangering the physical copy."
Another use case is for rare books like family histories, which are popular with genealogists. "Genealogists are some of our most enthusiastic users, and the Boston Public Library holds some genealogy books that exist nowhere else," said Amy E. Ryan, President of the Boston Public Library, in a statement. "This lending system allows our users to search for names in these books for the first time, and allows us to efficiently lend some of these books to visitors at distant libraries." Furthering that, Jeffrey Krull, director of the Allen County Public Library said in a statement, "Reciprocal sharing of genealogy resources is crucial to family history research. The Allen County Public Library owns the largest public genealogy collection in the country, and we want to make our resources available to as many people as possible."
Like any interlibrary loan program, pooling collections allows libraries to stretch their funds for buying eBooks farther. That can mean more total eBooks purchased. American libraries spend $3-4 billion each year on publishers' products. "I'm not suggesting we spend less, I am suggesting we spend smarter by buying and lending more eBooks," asserts Mr. Kahle in a statement. Two leading eBook publishers released statements of support. John Oakes, is founder of OR Books, a new publisher which releases 1-2 titles per month as both paperback and ebook. He said in a statement, "We're always on the lookout for innovative solutions to solve the conundrum of contemporary publishing, and we are excited to learn about the Internet Archive's latest project. For us, it's a way to extend our reach to the crucial library market. We look forward to the results." Richard Nash, is founder of Cursor, a small eBook publisher with a "portfolio of editorially-driven publishing communities." He said in a statement, "Libraries are our allies in creating the best range of discovery mechanisms for writers and readers—enabling open and browser-based lending through the Internet Archive means more books for more readers, and we're thrilled to do our part in achieving that."
Meanwhile, eBooks have another new market opening up, as a blog post by Edward Nawotka, "Is Monetizing the Used E-book Market the Next Big Opportunity?" and several commenters discuss at publishingperspectives.com.