Online video gained momentum in 2010, says a recent report from comScore. Compare 2009 and 2010: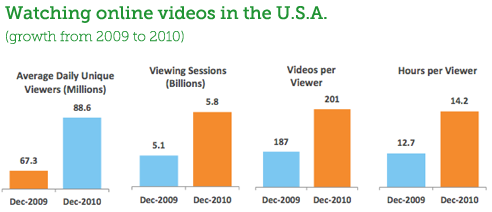 The comScore report says:
"The online video market continued to gain momentum in 2010, with an average of 179 million Americans watching video each month. Engagement levels also rose during the year, with viewers watching online videos more frequently. More than 88.6 million people watched online video on an average day in December 2010 (up 32 percent from December 2009), while viewing sessions totaled 5.8 billion for the month (up 13 percent). Americans also spent a significantly higher number of hours viewing online video in 2010 versus the prior year due to increased content consumption and more video ad streams. The average American spent more than 14 hours watching online video in December, a 12-percent increase from last year, and streamed a record 201 videos, an 8-percent increase."
Similarly, the Wall Street Journal reported today that Netflix was the top paid streaming video service in the last quarter, by a wide margin for time spent per viewer on its streaming site, which was up 23% from December to over 11 hours. Media-measurement firm Nielsen also reported last week that online video usage in the U.S. is up from last year. Time spent viewing video on PC/Mac/laptops from home and work locations increased by 45%. Although the number of unique online video viewers only increased by 3.1% from January 2010, level of activity was up as viewers streamed 28% more video and spent 45% more time watching. Total video streams also saw significant year-over-year growth, up 31.5% to 14.5 billion streams. Data on overall online video use in the U.S.:

Last year, Pew Internet reported on how many adults used the internet to watch videos in June 2009. In a survey of 100% adults, Pew found that 69% of online adults used the internet to watch or download video, with 18-29 year-olds leading the way. That represented 52% of all adults in the United States. Comedy had supplanted news as the most viewed type of video online. Moreover, in June 2009, one in seven adult internet users (14%) have uploaded a video to the internet, almost double the 8% who were uploading video in 2007. Pew does not yet have data for 2011.
What this means
Are you making videos and posting them online (e.g., YouTube)? It's easy with the current generation of video phones and cheap HD video recorders. And it's easy to edit, from the phone or camera, or in tools like Apple's iMovie.
---
Source: "
The 2010 U.S. Digital Year in Review
," a whitepaper from comScore. (PDF). Data from comScore Media Metrix; Wall Street Journal; Pew Internet.