Archive for the 'Interactive experiences' category
The Grand Canyon is yet another place that Google brings to your digital screens, from their Street View family of content. Google has been collecting street-level views of our world at a vast scale possible only because of it's deep pockets and technical expertise. 
---
Continue reading
In the era of tablets and smart phones, parents of small children may consider educational apps. Recently, the "Slashdot" online community discussed apps and kids. Nerdy parents chimed in with suggestions. This tech-savvy community is often reluctant to rely on apps, favoring "play time outside with soccer and baseballs, and inside with blocks, Hot Wheels, PlayDoh, [...]
---
Continue reading
Most data is meaningless to most people — unless it is visualized. Stepping beyond familiar visualizations like bar charts and pie charts, there are many approaches to visualizing data, from mapping (e.g., color coding a map to show voting patterns) to visualizing networks (e.g., the links between people). You are not limited to Microsoft Excel, [...]
---
Continue reading
Games and gaming principles have a useful role in exhibit design for both real world and virtual settings. "As educators, we're always looking for ways to make museum content 'stickier' and more meaningful," says Michelle Moon in a recent blog post, "All fun and games."  Moon designs and runs public programs for adults at the Peabody Essex [...]
---
Continue reading
What happens to a city when the people that lived there die off or are absorbed by others? War, disease and natural disaster can all wipe out anyone who might carry on the story and heart of a city.
---
Continue reading
Over 30,000 objects are now available for anyone to savor and study online, for free, in impressive high resolution, in Google's 'Art Project." This is 30x expansion from the thousand objects in the first version launched in February 2011. See our prior article, . The project now has 151 partners in 40 countries; in the U.S., the initial [...]
---
Continue reading
http://www.youtube.com/watch?v=ExQDM6zGwMI
Online courses can be a great way to teach (and learn) new skills. They can be small and highly personal, or scale to thousands of students. As followup to my post about "What is an online course?", let's look behind the scenes at a few kinds of successful online classes, rich with video, feedback and large [...]
---
Continue reading
http://vimeo.com/31821923
A Hopi doll with painted headdress springs to life, spinning under my finger tips on a new iPad app from the University of Virginia Art Museum (UVaM). The delightful app presents 19 different objects in 3D, to spin and zoom, providing an immediacy that rivals seeing an object in real life. In fact, it's better in [...]
---
Continue reading
Swirling a tasting of beer in my plastic glass, I was curiously intrigued by the presenter's explanations about Trappist monks breaking off from the Cistercian order, the impacts of iso-amyl acetate (banana) and ethyl hexanoate (green apple) on flavor, and how dealing with soft water led to curious additions to beer, like oysters and seawater.
---
Continue reading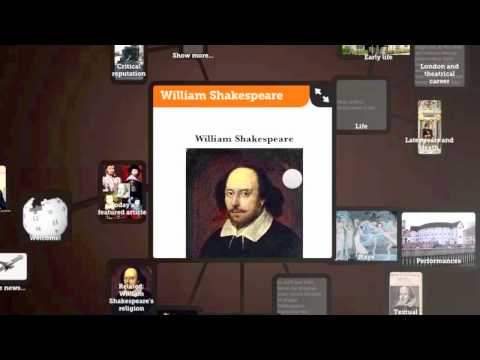 IDEA's second mobile app, WikiNodes (see app store link) puts the encyclopedic knowledge of Wikipedia at the fingertips of iPad users. Articles are displayed as nodes that can be touched, dragged and spun around — showing the relations between articles and sections of articles. The app is currently featured in Apple's app store. Here's a 30 second demo: The app [...]
---
Continue reading