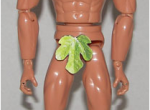 Getting the community involved in contributing content to an online project is a great form of public participation, and also a way to build  large repositories of content. However, the underbelly of community-generated content is bad taste, inappropriate content, and outright abuse.
This seedy side is particularly evident in social networks sites, where users upload photos from their cell phones. To keep it clean,  social media sites hire legions of inexpensive laborers via crowdsourcing sites like Amazon's Mechanical Turk and CrowdFlower to screen uploaded content.
To get a flavor for the kinds of content people upload, check out the rules which have been developed by the Skout social network

. Photo reviewers are paid 3-4 cents to scan one hundred photos at a time, and marking inappropriate photos which violate any of the following. From topless shots to erections to gang symbols…
No nudity – including photos of frontal, back and side nudity.
No bare skin one inch above the pubic area.
No shirtless body shots indoors, even if with face – only allowed in natural settings (e.g., a swimming pool or beach)
No cleavage shots without a face.
No pubic hair can be visible.
No underwear can be visible including the underwear waistband showing above pants.
No faceless body/torso shots without clothes or in underwear, including no crotch/butt only photos, nor abs only photos
Appropriate public swimwear is allowed if the following is observed: No pubic hair, no women's nipples, no outline of genitals and no portion of the butt can be present. And, Only in natural settings (e.g., a swimming pool or beach)
Pants and shorts must be worn normally, buttoned, and not pulled or hanging down.
No images of hands or fingers placed in pants or pulling underwear outward.
No copyrighted pictures or illustrations.
No images that display semen (or any fluid made to look like semen or ejaculation) on anything in photo.
No images of sexual acts, either real, illustrated or simulated.
No photo that is sexually explicit or overly suggestive.
No photos that have been altered to disguise sexual acts including a black box or blurred filters to hide sexual images such as touching of genitals by hand.
Nudity (particularly the genitals) covered up by a towel, hat or other means is not allowed.
No grabbing/holding or touching genitals or genital area.
No photos with sheer, or otherwise see-through or wet material below the waist, or covering women's nipples/breasts.
No erections or outline of genitals through clothing will be allowed.
No photos that contain sex props and toys, including the use of fruits/vegetables.
No images of illegal drug use and paraphernalia.
No images of firearms or weapons.
No photos of any obscene gestures and/or lewd behavior. (e.g., the middle finger or a banana used to simulate male genitalia)
No photos of violent acts to yourself, someone else, or animals; including blood in photo.
No image used to advertise services, goods, events, websites, or apps.
No profanity or curse words.
The guidelines are this excruciatingly detailed  because all these kinds of content are often uploaded to the social network. The Skout network's screening finds 5-10% of their content to be in violation.
Typical educational projects have a more cultured vibe, and a self-selected community of participants, and should encounter much less depravity. But any outreach projects planning large amounts of community-generated photos should have moderation mechanisms in place.