Over 30,000 objects are now available for anyone to savor and study online, for free, in impressive high resolution, in Google's 'Art Project." This is 30x expansion from the thousand objects in the first version launched in February 2011. See our prior article, The virtual vs. the real: Giga-resolution in Google Art Project. The project now has 151 partners in 40 countries; in the U.S., the initial four museums has grown to 29 institutions, including the White House and some university art galleries.
See the site: Google Art Project
Google's project also includes their "street view" to provide walkthroughs of 46 museums, with more on the way. Google's team took 360 degree images of the interior of selected galleries which were then stitched together, enabling smooth navigation of over hundreds of rooms within the museums. The gallery interiors can also be explored directly from within Street View in Google Maps. Here's walking around the Acropolis Museum: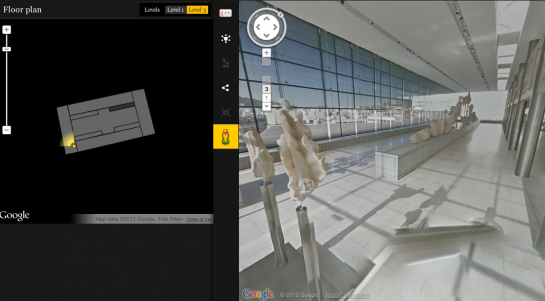 Zoom. Zoom. 
All the images can be zoomed, some to a stunning degree. For 46 objects, visitors can see extraordinary detail using super high resolution or 'gigapixel' photo capturing technology, enabling the viewer to study details of the brushwork and patina beyond that possible with the naked eye.
At right is 'Young Knight in a Landscape', (1510) by Vittore Carpaccio from the Museo Thyssen-Bornemisza in Madrid. This is what you can see on the museum's current web site:

But check out the level of detail which the museum gives you via Google's Art Project: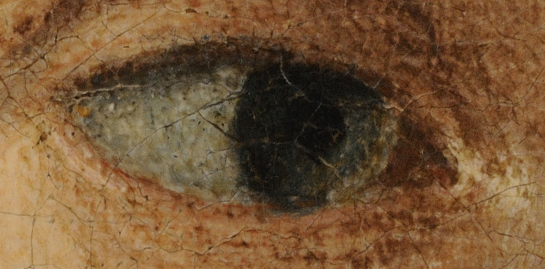 More range. More access. 
Their online collection spans a wide range of institutions, large and small, traditional art museums as well as less traditional settings for great art. "The Art Project is going global, thanks to our new partners from around the entire world. It's no longer just about the Indian student wanting to visit Metropolitan Museum of Art in New York. It is now also about the American student wanting to visit the National Gallery of Modern Art in Delhi," said Amit Sood, Head of Art Project, Google.
Google suggests you check out the White House in Washington D.C., the collection of the Museum of Islamic Art in Qatar, or the Santiniketan Triptych in the halls of the National Gallery of Modern Art, Delhi.
Videos, hangouts, online learning.
The expanded site has more powerful browsing (e.g., by period, artist or type of artwork), and integrates Google's "hangouts." Their videos (e.g., stories from curators) are collected in a central 'Art Project' YouTube channel.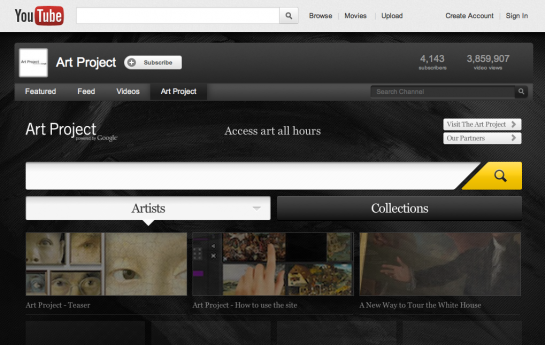 In a smart move, Google also worked with Khan Academy's smARThistory, who made 90 Khan Academy videos expressly for Google Art Project version 2. See them here.
Other uses of the technology
Google is using the same technology to host content on a few other institutions' sites. Under the auspices of the Cultural Institute, Google is producing high resolution images of the Dead Sea Scrolls, digitizing the archives of famous figures such as Nelson Mandela, and creating 3D models of 18th century French cities.
What does this mean?
Access is growing. Museums are rethinking control vs. outreach. Is it better to limit access to real-life visitors who buy tickets and shop the museum store, or make culture freely available? It is better to lock down access to promote image licensing as a revenue stream, or release publicly hoping that free access will open doors for newer business models?