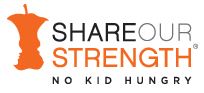 America's teachers are paying $480 million dollars out of their pockets to feed our kids. Earlier this week, Share Our Strength, a nonprofit working to end childhood hunger in America, reported that "61% of teachers who see children coming to school hungry because they are not eating at home purchase food for their classrooms, at an average of $25 a month."
There are approx 3.5 million jobs for kindergarten, elementary school, middle school, and secondary school teachers, in the U.S. (2008 stats from Bureau of Labor Statistics).
3.5 million teachers x 61% buying food x $25/month x 9 months per school year = $480 million dollars
The Share Our Strength survey was conducted September 20 through October 2010, with a sample of 638 K-8 public school teachers nationwide. The survey was sent by email; teachers' email addresses were drawn from list provided by Market Data Retrieval (MDR). The margin of sampling error for the survey +/- 4.0 percentage points. The census reports more teachers (over 6 million in 2008), but it's unclear how many of them are actively working), so this subsidy could be closer to $1 billion.
For more info, see coverage by USA Today: "Children are coming to school hungry" or the full report (PDF).